leanlab 2023: 7 - 9 December
Innovation Ignited: Idea to Business Model in 48 hours!
Are you looking to bring your ideas to life? Or build a startup with like-minded individuals? Then leanlab is the right place for you. We connect people from various fields: students in tech, design, and business, startup coaches, entrepreneurs, and supportive organizations. Together, we prepare business ideas for the next level. Sign up now!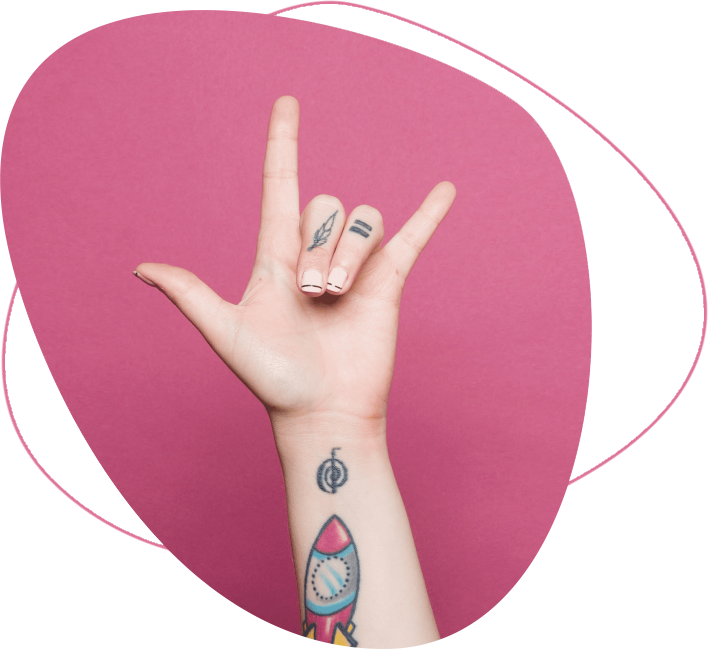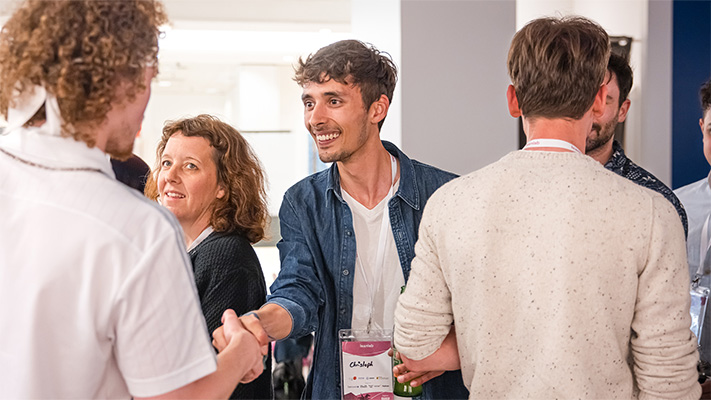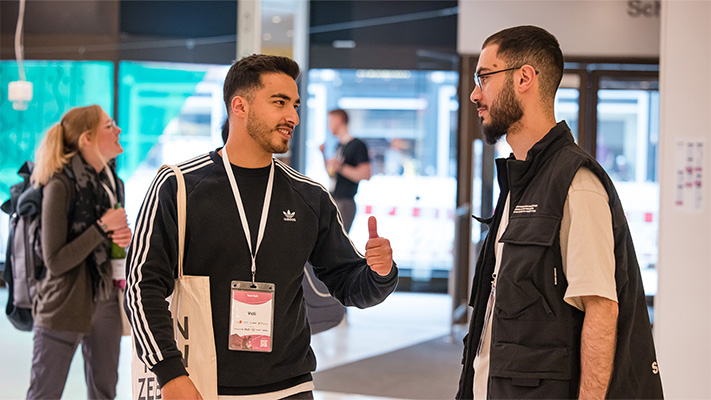 Keynotes
Exciting insights from top speakers.
Lukas Friedemann is Co-Founder and Chief of Growth and Operations at Equal Food, a Lisbon based food waste company seeking to restore the broken food system. Lukas earned his Master's in International Policy Studies in 2013 at Stanford University.He has been building companies for the past ten years in Colombia, Germany, and now Portugal, holding a number of different strategic and operational roles. Lukas loves to surf, dance Gaga, and create new experiences at his vegan restaurant and the co-created music festival he helps run.

Yvette & Denise Hakim are the founders and CEOs of Hakims' Pastry, a baking shop in Bogota, Colombia. They began selling brownies during their studies, today 10 years later they opened their fifth store, with more than 30 people making part of their team. Yvette & Denise are Business Administrators from CESA (Colegio de Estudios Superiores en Administración).

Sophie Hacker is a product designer at Hochschule Hannover specializing in sustainable product development and circular concepts. She is currently working on her bachelors project about upcycling excess materials into a sustainable product. As a former leanlab winner with her recycling project "UpWind", Sophie will give insights into her journey since the winning pitch.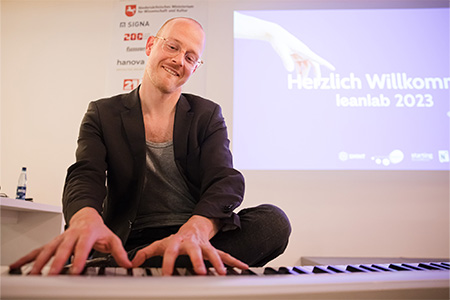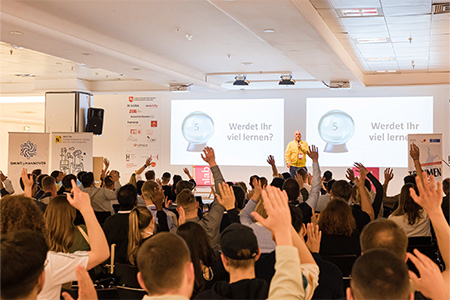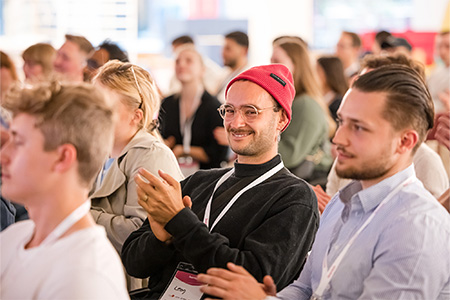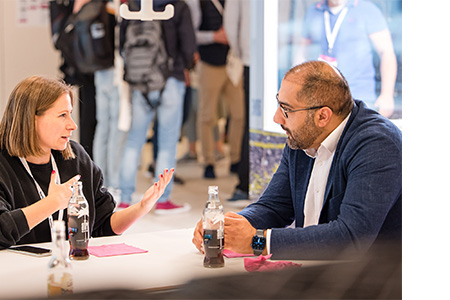 Judges
The judges for the final pitches
As a Master of Science in Business Administration, I initially had the opportunity to familiarize myself with the professional world through sales-related topics at a Bundesliga club. However, I had already explored the subject of Work-Life Balance during my Bachelor's studies, and now I am working as the Head of Sales at BRAINHOUSE247. We are striving to conceptualize a Work-Life Space to meet the dynamics of the market and to innovatively position companies for the upcoming generation of workers in the field of work environment. In terms of content, I design individual packages for companies and aim to develop partnerships in the Hanover region that provide added value for both parties. Additionally, I am a passionate networker and look forward to active exchanges in this fantastic project!

Trained at the intersection of business management and sustainability, Karolin is passionate about social-ecological transformation. As the head of the Hafven Impact Accelerator, a four-months training program for impact startups, she supports entrepreneurs in the development of innovative, scalable and sustainable business solutions. For Karolin, creating a positive impact includes driving forward alternative business models from interdisciplinary and holistic perspectives. This is also what the leanlab builds on and why Karolin is excited to provide input and feedback on the final pitches.

Ann-Sophie Küchler combines art and science. Together with her colleagues from "resonanzraum", she uses healing art to design healthcare facilities and create a holistic and healthy environment that has an effect on patients. Through color, form and perception psychology, the wall designs take away anxiety, stress and lower blood pressure. Founded in 2021, she has experienced the challenges of entreupreneurship first-hand and can therefore speak from her own experience.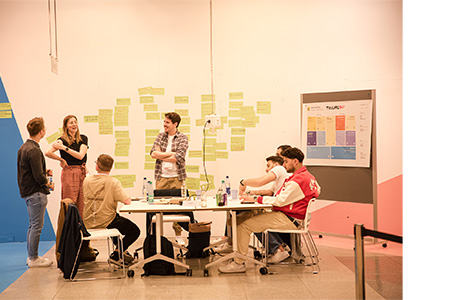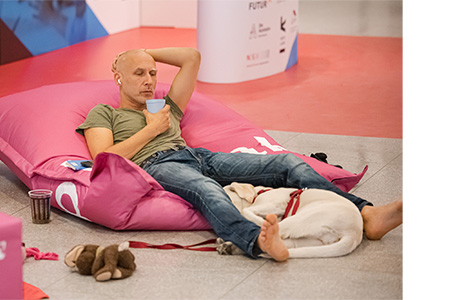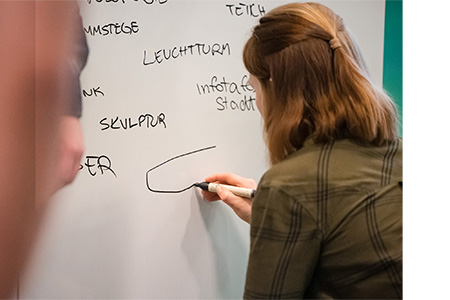 Coaches
Your professional support
Hi, my name is Moritz Pohlmann, and I'm a communication designer with a passion for visually solving content-related challenges and problems. With my open, curious, and questioning nature, I see myself as a designer in an interface position to discover, design, and communicate new perspectives and viewpoints.

Prof. Dr. Christian Lehmann loves what's new. As a professor of entrepreneurship at Hochschule Hannover, he excels at building things from scratch. Other things, not so much. His specialty is business models, and as a business administration expert, he assists you in creating what is probably the world's smallest business plan at leanlab.

As the Program & Partnerships Manager at VentureVilla, Niklas has collaborated with over 20 startups and supports entrepreneurs daily on their journey to starting their own businesses. In VentureVilla's 100-day accelerator program, startups refine their business ideas, practice their pitches, and prepare for raising investment capital.

Nora is a founding consultant and lecturer at NEXSTER, the Entrepreneurship Center at Hochschule Hannover. As a freelance economic geographer with a Ph.D., she assists organizations and municipalities in their quest for the future through a blend of applied research and startup tools. Nora may have a critical eye at times, but she always has an open heart.

Jochen is a diligent and creative mind. He enjoys working in teams to put ideas into practice. He achieves this goal through motivation, energy, and the right dose of silly nonsense. As a product designer, Jochen has embedded the creative process within himself and seeks to solve life challenges through Design Thinking tools. As a longstanding Nexster member, he's excited to be part of the leanlab team and always looks forward to the opportunity to participate in upcoming events.

BWL meets Social Work. Sandra combines skills from two worlds and is particularly passionate about female and social entrepreneurship. She finds it exciting to adopt different viewpoints and perspectives. As a female founders' scout at NEXSTER, she actively supports us.

Hi, I'm Cem, founder of numerous companies and the head of starting business. I am a big fan of pragmatism and consider ambition a valuable resource. I know what matters when you start a business: Ambition in a suitable framework. That's where sparks turn into fire

Daniel Marhenke likes intelligent solutions and lean startup models. He supports founders in developing business cases that are geared to the needs of customers. He also prefers the statement "better done than perfect", which helps to move forward in a straight line and not wait too long for the perfect moment.

Marvin is an economist, who loves how the brain works. His knowledge in research about our implicit functioning about the brain and the experience in marketing, market research and consulting helps to advise how to tackle business challenges. The secret lies within emotion and simplicity and solid finances. His passion for food led him to his own little food business.

Rebecca brings together expertise from the finance industry, solo entrepreneurship in the creative sector, startup founding and consulting, and event moderation. She is here to support you in the advancement of your ideas, refining your pitch, and establishing connections within the startup ecosystem.

Hi, I'm Julius Wolff, and I have a burning passion for entrepreneurship. My journey began in mechanical engineering, diving into research and production technology at the University of Hanover. My passion drove me to establish my own book publishing company, blending technology with creativity. Today, I leverage my expertise at hannoverimpuls, overseeing the University and Research sector. I'm here to share my insights and guide you on your path to success!

Jana Lenze is dedicated to guiding startups in crafting digital and sustainable business solutions. Her primary focus is assisting female founders in refining their business strategies. With her strong background in economics and sustainable finance, Jana also specializes in preparing startups for potential venture capital opportunities, providing essential support in their journey.

Grateful to this unique format for matching me with my previous co-founders @epap in '20. It was one hell of a bumpy ride but I don't want to miss it. Every single pothole has made me stronger I'm here to return the favour and pass the baton to the next batch of aspiring founders. Looking forward to it!

Sarah never stops pushing for new ideas. She believes that team work is essential to make the world a better place. As a designer and business administrator Sarah lectures Entrepreneurship using the tools of Design Thinking. Aside from it she runs a business with her partner, creating loads of things.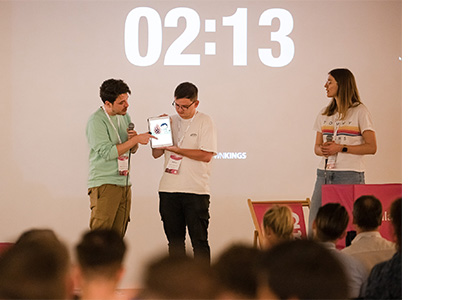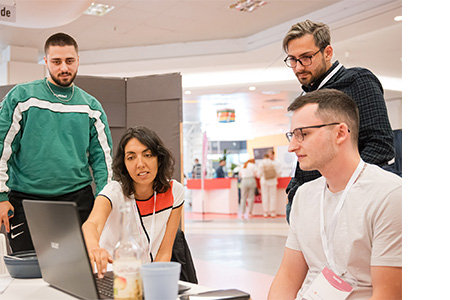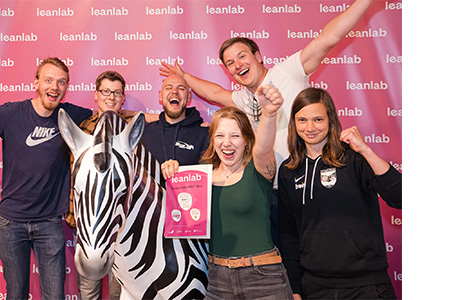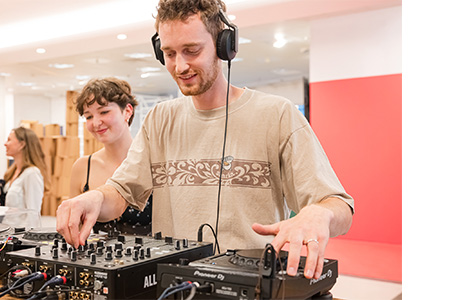 Program
leanlab 2023 - Your Startup Weekend in Hannover.
Based on the concept of a startup-weekend, we have developed an innovative format for creative individuals and those interested in starting a business in Hannover. The leanlab will take place from December 7th to 9th, 2023, at Hochschule Hannover (Campus Bismarckstraße).
You can find our program here:

Code of Conduct
Our values
The leanlab connects people to share a passion for entrepreneurship. Our goal is for all participants to have a consistently positive experience during the leanlab. Disrespectful behavior is unacceptable to us. Together, we want to ensure that the leanlab is a great and positive memory for everyone, regardless of their background, appearance, and identity.
Contact information
Feel free to text us!
Please use Guestoo, if you want to register for leanlab. For all other questions, ideas, and inquiries, you can contact us via email at hallo@nexster.info.